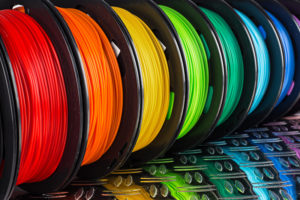 Filament Types for 3D Printers
Having trouble deciding which filament material to choose for your 3D project?
Filament types for 3d printers can often determine the quality and success of a print. Each material has different properties which will affect the final result. This sometimes makes choosing the correct material seem like a difficult task.
From rapid prototyping to small batch manufacturing or even functional parts, 3D printing is making what was once impossible, now possible. With high performance materials, 3D printing is now appealing to businesses worldwide who wish to reduce costs and speed up existing workflow processes.
The type of 3D filament you choose will depend on the desired result you hope to achieve.  Each 3D printer has criteria that needs to be considered when choosing your filament. Mechanical resistance, chemical resistance, temperature resistance, flexibility and ease of use all play a part in a successful print result.
There is a wide choice of 3D filament materials available.  As we have been in the industry for many years, we are happy to share with you some of the most commonly used 3D materials, their advantages and disadvantages and also technical specifications. We hope that this guide of filament types for 3D printers  helps when purchasing your 3D filament.
PLA (Polylactic Acid) is the most commonly used filament type for 3D printers. This plastic filament is ideal for most prints that do not require mechanical resistance. 
It is a filament which is easy to use and can be printed at a relatively low temperature, as a result this prevents warping and adhesion difficulties. It is also a material that does not produce toxic fumes when printing.
ABS (Acrylonitrile Butadiene Styrene) is a type of 3D printer filament which provides durability and resistance.  When put under pressure, it will bend and deform before breaking. This makes it particularly suitable for printing screws, gears or mechanical systems that may be subjected to external forces.
ABS is a common polymer typically used in the industry for injection molding applications, this is why it will naturally retract more than other types of polymer.  In 3D printing, retraction may cause bed adherence issues and warping.
Its high rigidity allows it to be used in the automotive industry, for household appliances or prints where resistance is important.
ABS carbon is a 3D filament type that has been specifically designed for 3D printers. It is made from a blend of Acrylonitrile Butadiene Styrene (ABS) reinforced with carbon fibers.
It provides excellent printing Properties that prevent the nozzle from clotting and damaging the printer. It provides 35% more tensile modulus than standard ABS and it is compatible with the majority of 3D printers with heated beds.
ASA (acrylonitrile styrene acrylate) is a 3D filament that is derived from ABS and is an excellent alternative to ABS if needed. It offers higher UV heat resistance and fantastic mechanical properties making it perfect for everyday or technical prints.  It is also suitable for outdoor use.  
Similar to ABS, this material has a smooth finish.  It can be successfully used in the automotive industry and bodywork printing due to high heat resistance. 
HIPS (High Impact Polystyrene) is a light yet solid material. It is impact resistant with high detail, this makes it suitable for many projects.
It is also used as a support material with double extrusion with materials such as ABS or ASA. This material easily dissolves in D-limonene (lemon-based solvent) after a few hours.
PET (Polyethylene terephthalate) filament is a polyester plastic used for bottles, packaging and many of our everyday products.  It is a strong filament that results in a solid print.
This common material has a glossy appearance and has been FDA approved.  It is also waterproof making it suitable for food packaging.  
Polycarbonate (PC) filament is the strongest standard thermoplastic material. This plastic is used for car headlights, glasses, home appliances etc. It has high mechanical resistance which is perfect for high temperatures (up to 140°).  This 3D filament material is suitable for automotive, aerospace or industry manufacturers. 
Nylon 3D filament is highly resistant to chemicals and extreme temperatures and is often used for small parts and in the food industry.  There are a number of different types of Nylon filament and we have outlined the pros and cons of the most popular types below:
Polypropylene 3D filament is a versatile, semi-rigid and lightweight material that is commonly used for food packaging and technical parts.  Printed parts are both moisture and heat resistant.  
The disadvantage of this 3D printing material is that printed parts may warp after cooling which makes printing more challenging. 
Flexible and semi-flexible TPE / TPU (thermoplastic elastomers) filaments are often used as technical plastics or as a replacement for rigid rubbers.
This material allows you to print objects that can be stretched or folded while retaining their original shape and elasticity. The material is ideal for printing soles, insoles, straps, or any other object that requires flexible properties.  It is compatible with most FDM 3D printers. 
PVA is a 3D filament material which is known for its ability to dissolve in water.  This makes it perfect for complex prints.
PVA is also suitable as a print material for quick prototypes.
The PAEK (Polyaryletherketone) 3D filament family includes two main types of material: PEEK (Polyetheretherketone) and PEKK (Polyetherketetonketone). These thermoplastic, semi-crystalline polymers are the best performing plastics available in 3D printing.  With excellent thermomechanical and chemical properties, the PAEK family of 3D filament is the solution used in the aerospace industry (light / fireproof / high mechanical and heat resistance) and surgical (chemically).
It is important to note that this filament cannot be used on most desktop 3D printers.
Follow us on LinkedIn to stay AM informed!
Disclaimer: Due to the vast number of materials available and new filaments coming to market, we will be updating this article regularly.